Cruachan es el nombre de una banda irlandesa de Folk metal fundada en 1992 por Keith Fay, tras desaparecer un grupo anterior (Minas Tirith) que había estado tocando desde 1989.
Cruachan es una mezcla de dos estilos de música (folk y black metal), con leyendas historicas y mitológicas. La influencia del Black metal sin embargo ha ido desapareciendo en sus ultimos trabajos, y gran parte de sus fans sólo consideran como Black metal su primer disco, Tuatha Na Gael (1995). Sin embargo, los elementos del black metal permanecen en muchas canciones de la banda, como la canción que da nombre a su álbum Pagan, del año 2004, y varias canciones de su último disco, The Morrigan's Call, del año 2006. A pesar de todo, como se ha mencionado anteriormente, la influencia del black metal se ha ido diluyendo a lo largo de la discografía, incluyendo incluso, una voz limpia femenina, con la incorporación de la vocalista Karen Gilligan.
El nombre de Cruachan, viene probablemente del nombre de una antigua ciudad que fue capital del antiguo reino irlandés de Connacht.
Muchas de las letras de las canciones de Cruachan hablan de este reino, así como de Cattle Raid of Cooley, que es una historia de la mitología irlandesa. Las letras de Cruachan también contienen referencias de la Era Vikinga, las invasiones de Irlanda de los vikingos, y de la derrota de los vikingos de Dublín en la batalla de Battle of Clontarf por Brian Boru. Otras canciones estan basadas en aspectos variados de la obra de Tolkien, como por ejemplo The Fall Of Gondolin del primer disco citado anteriormente, o Sauron del álbum Ride On (2001).
Shane MacGowan de The Pogues aparece en el single Ride on (2001), así como en la versión digipack de Folk-Lore (2002)
Acá en "La Pieza del Esteban", gracias a

Alvarock Sathanas 666

, les dejamos su discografía, disfrutenla.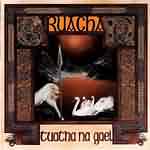 Tracks:
1. I Am Tuan
2. The First Battle Of Moytura
3. Meaves March
4. Fall Of Gondolin
5. CuChullainn
6. Tain Bo Cuailgne
7. To Invoke The Horned God
8. Brian Boru
9. To Moytura We Return
Parte 1
Parte 2
The Middle Kingdom (2000)


Tracks:
01. A Celtic Mourning
02. Celtica (Voice Of The Morrigan)
03. The Fianna
04. A Druids Passing
05. Is Fuair An Chroi
06. Cattle Raid Of Cooley
07. The Middle Kingdom
08. Oro Se Do Bheatba Abhaile
09. Unstabled
10. The Buttrfly
Parte 1
Parte 2
Folk-Lore (2002)


Tracks:
01. Bloody Sunday
02. The Victory Reel
03. Death Of A Gael
04. The Rocky Road To Dublin
05. Ossian's Return
06. Spancill Hill
07. Children Of Lir
08. Ride On
09. Susie Moran
10. Exiles
11. Horned God
Descargar
Pagan (2004)


Tracks:
01. Michael Collins
02. Pagan
03. The Gael
04. Ard Ri Na Heireann
05. The March To Cluain Tairbh
06. Viking Slayer
07. 1014 a.d.
08. Some Say The Devil Is Dead
09. Summoning Of The Sidhe
10. A Thousand Years
11. Lament For He Wild Geese
12. Erinsong
13. The Fall Of Gondolin
Parte 1
Parte 2
The Morrigan's Call (2006)
Tracks:
01. Shelob
02. The Brown Bull of Cooley
03. Coffin Ships
04. The Great Hunger
05. The Old Woman in the Woods
06. Ungoliant
07. The Morrigan's Call
08. Teir Abhaile Riu
09. Wolfe Tone
10. The Very Wild Rover
11. Cuchulainn
12. Diarmuid and Grainne
Parte 1
Parte 2
Pass: haRD